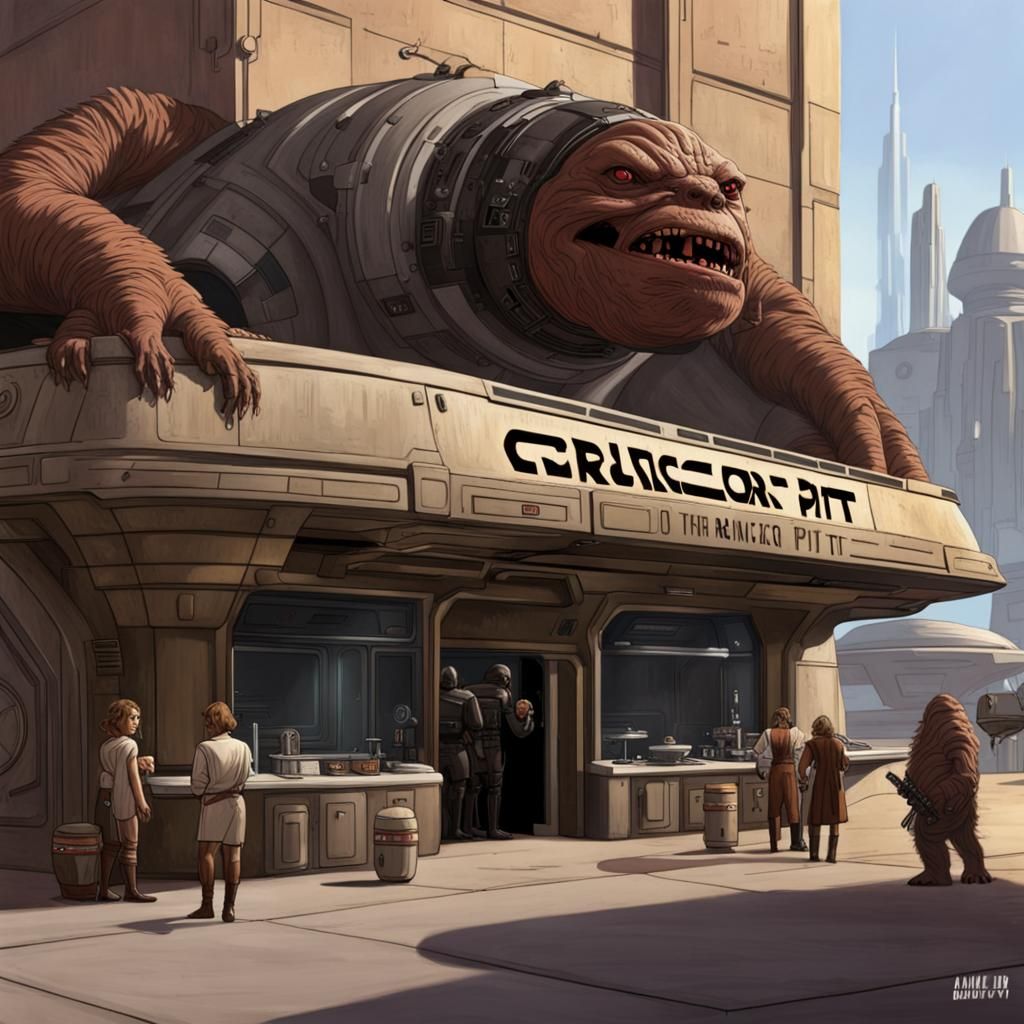 The Rancor Pit
Four Hours After Meeting With The Supreme Chancellor
​
Celtar brought his Aurek starfighter to a halt on the empty landing pad closest to the diner. While it was probably intended for a freighter or other larger craft, the only thing that mattered to Celtar was that it was vacant and close to the front door. As he spooled down the engines and powered off the avionics and other systems, he grabbed his cane and popped the cockpit's seal. Pushing it open with his cane, he pressed the 'Lock' button on his navicomputer and climbed out of the cockpit with a fluidity and precision that told anyone nearby that he had been flying this ship for some time, years if not decades. He made the conscious choice to leave everything that he wasn't wearing in the cockpit. He wouldn't need the datapads and his blaster was concealed by his robes. Aside from his cane, he looked unarmed.

The front door opened with a woosh and Celtar strode inside without a moment of hesitation. The last time he had been here had been with Katarina and, if he knew of any other decent diners on this side of the planet, he'd have gladly recommended them. As it were, his memories of Coruscant were hazy and this was the only place he could think of to get a decent bite to eat. Plus, their drink selection was easily the best onworld. He looked around for anyone he recognized and, seeing none, made his way to the left and around the bar. The former Jedi found a booth near the back, where the sound of the kitchens would make eavesdropping difficult, and sat with his back to the wall. He always liked facing the door and it had saved him more times than he could count, both before he left the Jedi Order and in the years since.

A serving droid rolled over to him and tried to hand him a menu, though he waved it away. "

I'll have a Bantha Blaster and either your Rancor Blood or your Rancor's Breath, whichever is on the special menu. I'll get a Shawda club and a Manaan slider. I'll open a tab but you can bill it to the Supreme Chancellor, I'm here on Republic business.

"